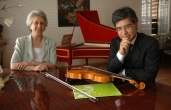 Maria Clotilde Sieni and Antonio D'Andrea.
Slip was commissioned by Los Angeles violinist Robin Lorentz in 2001, and the Italian duo of D'Andrea and Sieni came across it in an internet search for new duets the following year. In a humorous attempt to convert the harpsichord into many other plectrum instruments, including (and not limited to, as will be heard) dulcimer, koto, mandolin, guitar and bouzouki, the piece is a world tour for anyone with attention deficit disorder.
An expanded version of Slip, titled Slipping, includes the addition of world percussion and appears on Alex Shapiro's 2007 CD, Notes From the Kelp, performed by Ms. Lorentz, harpsichordist Kathleen McIntosh and percussionist Dan Morris.
Slip is a 2008
International Aliénor
Harpsichord Composition Competition
award winner.