BENEATH


for orchestra
and pre-recorded soundscape.
(with Pacific Humpback whale soloist!).

Composed in 2010 by Alex Shapiro.
Arranged by Andrew Wainwright, 2019



2019. Duration 10:30.
Published by Activist Music LLC (ASCAP).


BENEATH is available as a digital set of .pdf score and parts, plus audio download.
Full set: $200. Score only: $25.



Click here to order the PDF set from Activist Music
LICENSES INCLUDED:

Synchronization and mechanical rights are included free of charge for music educators and non-profit ensembles wishing to create a virtual recording and video of this piece, subject to written approval from Ms. Shapiro prior to publicly posting the media.
Click here to listen!

Stream

Download

The .mp3 stream or higher-resolution download of the full orchestra version of
BENEATH.

Performed and recorded September 2019 in Aurora, Illinois by The Fox Valley Orchestra, conducted by Stephen Squires.




PROGRAM NOTE for BENEATH:

Beneath brings listeners on a sonic journey into a private, aquatic realm. Below the surface of the ocean is a world of liquid beauty and grace hidden from our eyes and from our imagination. Even in this habitat of life and hope, exquisite creatures remain vulnerable to events triggered from beyond their fragile sanctuary. From hearing a volcanic eruption under the Pacific, to going on a guided tour of the sea alongside a Humpback whale, your ears and your heart will glide across the bottom of a place we sometimes forget to look.
Conductor Joseph Higgins gives his audience a wonderful introduction to BENEATH by playing the raw Humpback whale song for them before giving the downbeat to the Rowan University Wind Ensemble — have a listen!

PERUSAL CONDUCTOR SCORE for
BENEATH for orchestra
(email Activist Music for the code):

.pdf file of the TRANSPOSED CONDUCTOR SCORE, 11 x 17; 25 pages
| | |
| --- | --- |
| CONDUCTOR SCORE | |
| | |
| --- | --- |
| Here's something VERY helpful: a complete guide to the software and hardware setup for your rehearsal space and performance venue. | |
This music lends itself to a multimedia performance if desired, with video, photos, lighting, or set design concepts. For access to existing photographs from Alex's extensive portfolio, or for more information, please contact Alex


Alex has written an extensive two-part article about electroacoustic large ensemble music and the uses of multimedia in the concert world. The essay, titled The e-Frontier: Music, Multimedia, Education, and Audiences in the Digital World echoes presentations she has given at the 2013 Midwest Clinic, the 2014 TMEA convention, and countless other seminars, and appears in the June and September 2014 issues of the magazine of the World Association for Symphonic Bands and Ensembles, WASBE World. The pdf is offered here with the very kind permission of the organization.

Click here for the full .pdf file
| | |
| --- | --- |
| | Want to know how Alex found the perfect whale for this piece? Click here to read a short interview with her, on the blog The Natural World. |
| | |
| --- | --- |
| | Click here to listen to the February 2017 podcast interview Alex did with host Anthony Lanmanon his show 1 Track, in which she A/B'ed identical sections of BELOW, for contrabass flute, and its subsequent version for symphonic band, BENEATH -- the final movement of IMMERSION. |
| | |
| --- | --- |
| | BENEATH is also the third movement of Alex's wind symphony to the sea, IMMERSION. Click here to read about the suite. |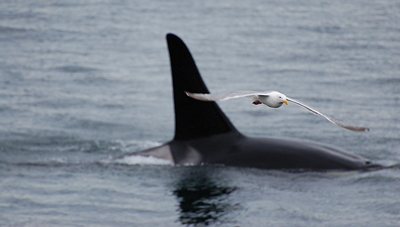 | | |
| --- | --- |
| The VERY best way to reach Alex is through email, by clicking here | |
You can also leave a voice message or a fax at:
(270) 916-0093, and she'll return your call.
All photographs by Alex Shapiro (offering a good hint about where all this watery music comes from!).