LIQUID COMPASS was generously commissioned by Carthage College, and its alumni, to commemorate the 140th anniversary of the Carthage Band, Christo et Ecclesiae. The participating donors are greatly appreciated:

Generous support was provided by:
Anonymous Friend of Music
Carthage College Department of Music
Ralph Lane

Additional support was provided by:
Nathaniel Card
Kurt and Vicki Chroust
Calvin and Nona Claus
John Dorch
John and Lori Gnabasik
Scott Jones and Jennifer Bodrie Jones
Lorilyn Krug
Ronald and Cynthia Larson
The Justice Law Firm P.C.
Genevieve Mundis
Mari Panzer
Lewis and Margaret Payne
Diane Presta
Michaela Ross
Brian Schoettler
Richard and Mary Sjoerdsma
Karin Stefans

Very special thanks to Dr. James Ripley, who set his musical compass with the faith that we might discover a shared true north!




Conductor James Ripley and Alex Shapiro rehearsing LIQUID COMPASS with the Carthage College Band, May 2014.
THE CONDUCTOR SCORE
(email Alex for access code )
PERUSAL ONLY; not for performance or duplication.
.pdf file of the TRANSPOSED CONDUCTOR SCORE,

9 x 12; 47 pages including cover and notes.



LIQUID COMPASS is a tone poem that takes the musicians and the audience on a watery journey spanning the mystical and the triumphant. Commemorating the 140th anniversary of Carthage College's wind band, the piece migrates to different places, but never loses its bearings in pursuit of a musical true north. The spiritual power of the sea is ever-present, in layers of unique sounds heard in the audio track, and duplicated by the musicians. The effect is a physical surround-sound of texture, as metal bowls capture slow, resonant drips of water, and flutists breathe other-worldly intonations. The piece, like the school that commissioned it, continues to push forward while observing that which has come before. Because one can't celebrate history, without reflecting on the waters over which time and experience have passed.
| | |
| --- | --- |
| Here's something VERY helpful: a complete guide to the software and hardware setup for your band room and performance venue. | |
A VERSION WITH PIPE ORGAN
LIQUID COMPASS is a large, dramatic work, and it gets even larger and more dramatic with the addition of pipe organ! At the invitation of conductor Jay Jones and with Alex Shapiro's guidance, the distinguished organist Jan Kraybill created an organ part to add to any performance, and premiered it (pictured above) in March 2020 in Kansas City, Missouri at the Kauffman Center for the Performing Arts, on the stunning Julia Irene Kauffman Casavant Organ, Opus 3875.

Conductor Derek Wickum leading the Bemidji High Band in Minnesota during a 2015 performance of LIQUID COMPASS.
The Lamont Wind Ensemble of the University of Denver, conducted by Sarah Wagner on Novmber 18, 2021:


Zoom, Google Meet, Skype, etc. are wonderful tools for affordably bringing Alex into your rehearsal without having to book a plane flight! She has a great time coaching players, and the difference between their musicianship at the beginning of the rehearsal and by the time it ends, is often remarkable.
Alex can tell the ensemble about how the piece they're playing was created and engage them in conversation, and even show them how her digital project studio works! It's also easy to arrange to have her say hello to the audience during a concert, via a custom video. Webhearsals connect musicians to the real person-- and the stories-- behind the notes on the music stands.
The best way to reach Alex Shapiro is through email,
by clicking here

You can also leave a voice message (or even a fax, if anyone faxes anymore) at:
(270) 916-0093.
To see some examples of webhearsals, and the view Alex loves to share from her desk, click here.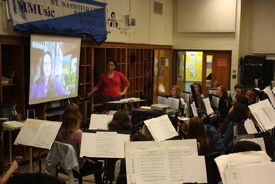 A December 2012 webhearsal with Alex in her studio on San Juan Island, and band director Mary Bauer and Mt. Mansfield Union High School in Vermont, rehearsing PAPER CUT.
Alex has written an extensive two-part article about electroacoustic band music and the uses of multimedia in the concert world. The essay, titled The e-Frontier: Music, Multimedia, Education, and Audiences in the Digital World echoes the presentations she has given at the 2013 Midwest Clinic, the 2014 TMEA convention, and countless other seminars, and appears in the June and September 2014 issues of the magazine of the World Association for Symphonic Bands and Ensembles, WASBE World. The pdf is offered here with the very kind permission of the organization.

Click here for the full .pdf file
| | |
| --- | --- |
| Alex and conductor James Ripley were guests on The Morning Show with Gregory Berg on Wisconsin's public radio station WGTD-FM on May 9, 2014. They covered a lot of ground, and some ocean, too, as they delved into the making of LIQUID COMPASS, commissioned by Ripley and Carthage College, and the world of composing. The broadcast starts at 2:25 in, and continues for 45 minutes. Click the icon to enjoy an animated conversation! | |
Stream the broadcast:
| | |
| --- | --- |
| The VERY best way to reach Alex is through email, by clicking here | |
You can also leave a voice message or a fax at:
(270) 916-0093, and she'll return your call.
There's a lot more Shapiro band music to hear!

Head on over to THIS PAGE for an overview of Alex's wind band pieces. You can listen to each one, read all about it via a link, and if desired, request a free pdf perusal score. Have fun!