A flounder, stranded ashore
after high tide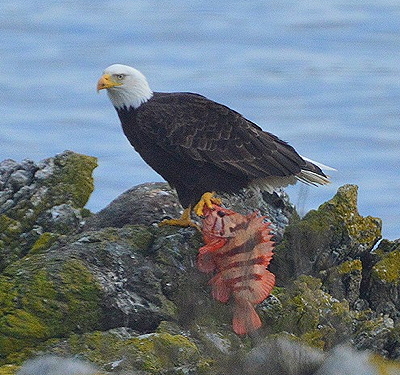 A Bald eagle with an unlucky
Tiger Rockfish for lunch
| | |
| --- | --- |
| Our hearts are equally shaken by moments excruciatingly painful, and transcendentally beautiful. In a world in which emotions are often blunted by the assault of overload, we cannot allow ourselves to ignore profound, inner responses evoked in an instant. Awestruck. Hopeful. Grieving. Longing. Shocked. Weeping. Thinking. Amazed. Waiting. Stunned. Heartbroken. Transported. Hurting. Dreaming. Startled. Dismayed. Delighted. Caring. What are the moments that have moved you? | |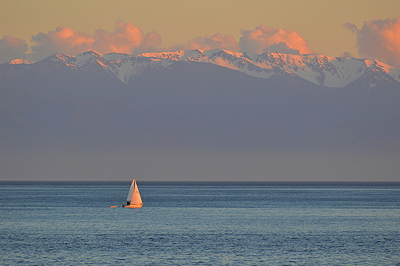 A sailboat passes the Olympics,
awash in the glow of the sunset

The composer's former rental home of five years,
consumed by wildfire
| | |
| --- | --- |
| The mix of the April 2016 live premiere by the University of Memphis Symphonic Band, conducted by Armand Hall. | |

An Orca whale breaches
THE CONDUCTOR SCORE
(email Alex for access code )
PERUSAL ONLY; not for performance or duplication.
.pdf file of the TRANSPOSED CONDUCTOR SCORE,

9 x 12; 38 pages including cover and notes.




An island fox
offers an intense stare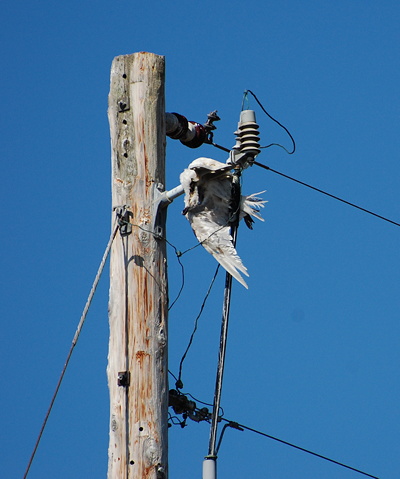 A dead gull,
caught on a power pole

A 40 foot ketch, washed up onto the beach
after a storm
The music of MOMENT is an agenda-less wash of evocative sound that will conjure different emotions for different listeners. The musicians in the ensemble perform a textural role, as long lines and repeated notes waft in and out of the fabric of the track, blending seamlessly. Their haunting, chant-like voices emerge, to count the moments.

Multimedia notes:

If desired, the addition of emotionally stimulating photos or video projected in the background is encouraged. Alex Shapiro has many appropriate photographs that she is pleased to make available, some of which can be seen on this page.

Ensembles are also encouraged to raise environmental awareness by presenting a visual juxtaposition between the tremendous beauty of our planet, and the immense harm it has suffered from the actions of humans: drinking water poisoned by fracking; oceans clogged with bird and fish-killing plastics; landscapes permanently altered by mining and drilling; species mutated by radiation and pesticides. These are only a few examples of non-political topics with something in common: there is still time for humans to change their behaviors, and to make a difference.
| | |
| --- | --- |
| Here's something VERY helpful: a complete guide to the software and hardware setup for your band room and performance venue. | |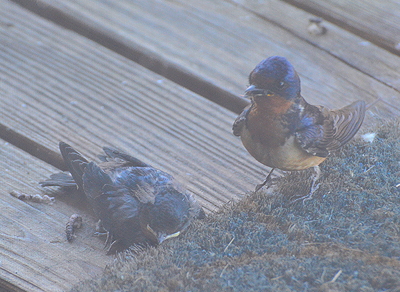 A distraught mother barn swallow
attempts to feed her dead baby
Zoom, Skype, Google Meet, etc. are wonderful tools for affordably bringing Alex into your rehearsal, without having to book a plane flight! She has a great time coaching students, and the difference between their musicianship at the beginning of the session and by the time it ends, is remarkable.



Alex can tell the ensemble about how the piece was created and engage them in conversation, and even show them how her digital project studio works! It's also easy to arrange to have her say hello to the audience during a concert, via a custom video. Webhearsals connect musicians to the real person-- and the stories-- behind the notes on the music stands. Get in touch with Alex-- her contact info is at the bottom of this page.



To see some examples of webhearsals, and the view Alex loves to share from her desk, click here.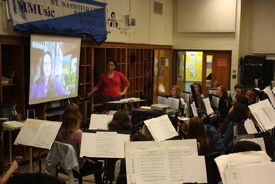 | | |
| --- | --- |
| Alex was an early adopter of online "webhearsals"! Here's one from December 2012 with Alex in her studio on Washington's San Juan Island, and band director Mary Bauer and the Mt. Mansfield Union High School Band far across the continent in Vermont. | |
| | |
| --- | --- |
| Conductor Andrew Yosviak wrote this review of MOMENT for the Winter 2019 issue of the PMEA News: | |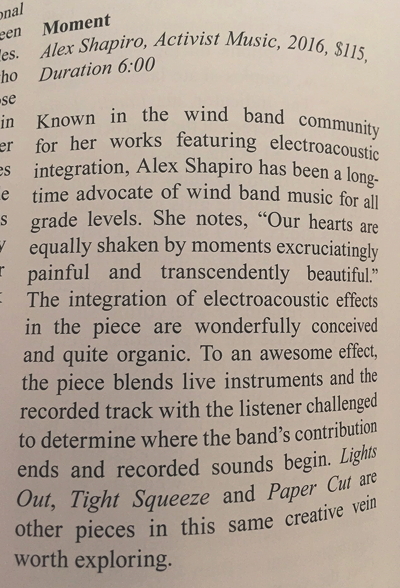 Alex has written an extensive two-part article about electroacoustic band music and the uses of multimedia in the concert world. The essay, titled The e-Frontier: Music, Multimedia, Education, and Audiences in the Digital World echoes multimedia presentations she has given at The 2013 Midwest Clinic, the 2014 TMEA convention, and countless other seminars. It appears in the June and September 2014 issues of the magazine of the World Association for Symphonic Bands and Ensembles, WASBE World, and the .pdf is offered here with the very kind permission of the organization.

Click here for the full .pdf file
MOMENT was commissioned by
Composers and Schools in Concert,
with the participation of a consortium of 18 partners:

Ames High School,
Chris Ewan, Director;
Ames, IA

Bemidji Senior High School,
Derek Wickum, Director;
Bemidji, MN

Central Dauphin High School,
Matthew Carraher, Director;
Harrisburg, PA

Charlotte Youth Wind Ensemble,
Shawn Smith, Director;
Charlotte, NC

Fountain-Fort Carson High School,
Jason Nitsch, Director;
Fountain, CO

Gilford High School,
Lyvie Beyrent, Director;
Gilford, NH

James Logan High School,
Adam Wilke, Director;
Union City, CA

Jensen Beach High School,
Thomas C. Dougherty, Director;
Jensen Beach FL

Los Altos High School,
Ted Ferrucci, Director;
Los Altos, CA

Loveland High School,
Geoffrey Miller, Director;
Loveland, OH

Mount Mansfield Union High School,
Mary Bauer, Director;
Jericho, VT

Mount Rainier High School,
Jordan Beckman, Director;
Des Moines, WA

Octorara Area High School,
Scott Cullen, Director;
Atglen, PA

Santa Teresa High School,
Julie Bounds, Director;
San Jose, CA

University of Arkansas,
Dr. Jamal Duncan, Director;
Fayetteville, AR

University of Memphis,
Dr. Armand Hall, Director;
Memphis, TN

Warhawk Summer Band Camp,
Glenn Hayes, Director;
Whitewater, WI

White River High School,
Dr. Rich Kuntzelman, Director;
Buckley, WA




Very special thanks to CSIC Executive Director Lisa Oman.

Vicious? Or just sleepy?
A fox opens wide
| | |
| --- | --- |
| The VERY best way to reach Alex is through email, by clicking here | |
| | |
| --- | --- |
| You can also leave a voice message or a fax (what's THAT?) at: (270) 916-0093, and she'll return your call. | |

A harbor seal devours
a Giant Pacific Red Octopus
| | |
| --- | --- |
| | Alex loves writing for band! You can listen to any of her other pieces by clicking here |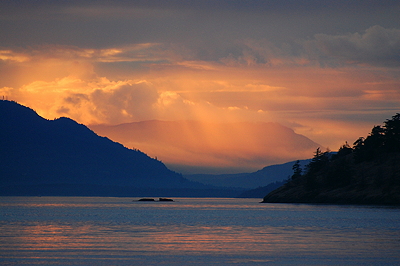 A wisp of clouds is backlit by
a San Juan Island sunset
| | |
| --- | --- |
| The photos throughout this page are random moments of joy, drama, and grief that caught Alex's attention. You can see more of what's on the other side of her lens, by clicking over to Alex's blog, Notes from the Kelp, here | |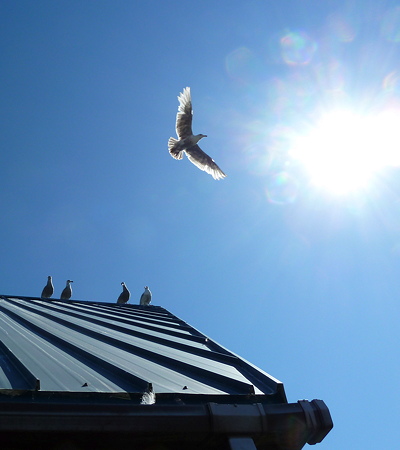 A gull suddenly alights from a rooftop,
into the sun