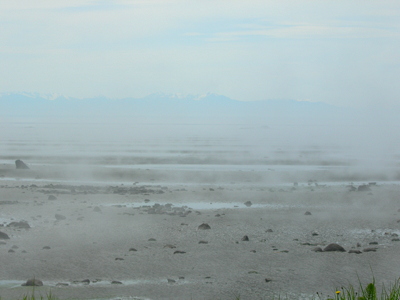 Much of the year 2020 is epitomized by the concept of being deprived of breath. From the lung-destroying effects of COVID-19, to the murderous strangulations of police brutality. From the searing, choking walls of wildfire smoke, to the smothering treason of politicians attempting to asphyxiate democracy.




It was tempting to title this piece, "2020". But the pandemic, the systemic racism, the climate changes, and the abuses of power that churned malevolently as I composed this music, although heightened by a collective awareness, are neither new, nor approaching any resolution.




As quarantine has led millions of people to repeat the same day over and over, a simple theme of twelve notes repeats nine times, painfully slowly, always in the same order. A piano, rather than a wind instrument from which a deadly virus might be spread, offers up one pensive note at a time, paired with an atmospheric soundscape. As people attempt to stay connected to others through the internet, the combination of isolation and technology are a familiar theme.




The static bleakness begins in grayness, becoming only more grim as time passes. Three quarters through, the orchestration gradually fills with sounds made from humans, not computers. The electronic track stops. The technology stops. All we hear are live musicians as the conductor, formerly tethered to unrelenting demands of a metronomic click track, is finally able to allow the ensemble to breathe freely. Phrases climb upward from uncertainty, but of course there is no resolution. There can never be a resolution, because humans are not capable of it. But there can be hope, and breath.




Alex Shapiro
San Juan Island, WA
September 2020
| | |
| --- | --- |
| | |
| | |
| --- | --- |
| | |
| | |
| --- | --- |
| | |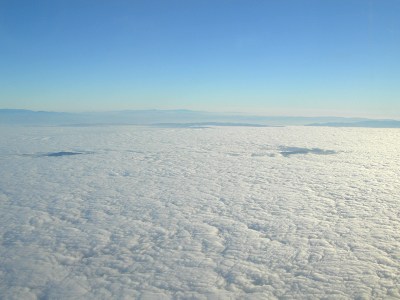 | | |
| --- | --- |
| BREATHE was commissioned by the Colorado Mesa University Wind Symphony, Calvin Hofer, conductor, with the generous support of Karen Combs and Lynn Wegener. | |
From conductor Calvin Hofer:




"Thank you to Alex Shapiro for composing such a beautiful composition of what I feel we have all gone through these past 18 months.




This piece was commissioned for the 20th Anniversary of the Best of the West Music Festival (Dec. 2020). Very special guest conductors and artists were lined up for this wonderful event to celebrate the 20th Anniversary of BOTW. But, COVID19 forced us to have different plans.




The pandemic had an effect on us all, as it did on Alex when composing BREATHE, during the spring, summer and fall of the 2020. Alex's piece arrived on time, but there was no BOTW, and no full rehearsals due to COVID, and no BOTW Festival. So, we rehearsed and recorded in small groups to make a composite recording to inform our future rehearsals.




Spring 2021...I decided to retire from full-time teaching. My last world premiere at CMU, even though not part of BOTW, is BREATHE. The more I studied and lived with this composition, the more I fell in love with the intent, the soundscape, the orchestration, and the artistry of this inspiring piece of music....and the more it continues to resonate within my soul.




I am proud to bring my participation of Best of the West Music Festival to a close with this significant work. I invite you to devote 10 minutes of your life, uninterrupted, to this piece."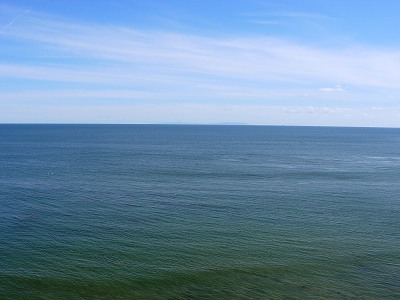 | | |
| --- | --- |
| A recording made with the live premiere performance by Colorado Mesa University Wind Symphony, Calvin Hofer, conductor, April 27, 2021. | |
| MP3: | |
| WAV (higher resolution; recommended!): | |
THE PERUSAL CONDUCTOR SCORE
(email Alex for code access)

PERUSAL ONLY; not for performance or duplication.
.pdf file of the TRANSPOSED CONDUCTOR SCORE


9 x 12; 26 pages including cover and notes.



| | |
| --- | --- |
| The photograph on the cover of BREATHE was taken by Alex Shapiro from her house on San Juan Island, Washington in August 2020, during the very worst wildfire season North America had ever experienced. The throat-searing smoke was so thick that the islands immediately in front of her were entirely obscured for days. The claustrophobic dread captured in this moment aptly reflects Alex's inspiration as she composed this piece. | |
BREATHE happens to be a 12-tone piece (horizontally, only).


Fun factoid: Composer David Ocker has noted:


The name "ARNOLD SCHOENBERG" is an anagram for,

"HER LONG BAND SCORE".
John Franklin, Interim Assistant Director of Bands at Northwestern State University of Louisiana, gives his audience a touching introduction and detailed analysis of Alex Shapiro's 2020 work BREATHE prior to conducting its performance on February 23, 2022 with the NSULA Wind Ensemble.


Following his comments, the performance begins at the 5:30 mark in the video.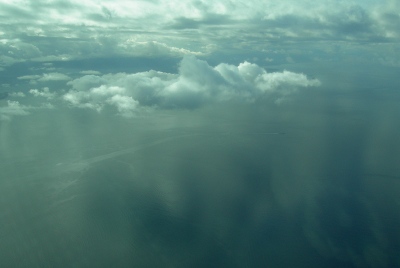 Zoom, Skype, Google Meet, etc. are wonderful tools for affordably bringing Alex into your rehearsal, without having to book a plane flight! She has a great time coaching students, and the difference between their musicianship at the beginning of the session and by the time it ends, is remarkable.



Alex can tell the ensemble about how the piece was created and engage them in conversation, and even show them how her digital project studio works! It's also easy to arrange to have her say hello to the audience during a concert, via a custom video. Webhearsals connect musicians to the real person-- and the stories-- behind the notes on the music stands. Get in touch with Alex-- her contact info is at the bottom of this page.



To see some examples of webhearsals, and the view Alex loves to share from her desk, click here.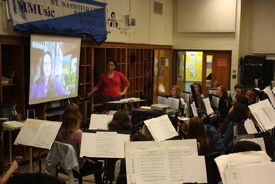 | | |
| --- | --- |
| Alex was an early adopter of online "webhearsals"! Here's one from December 2012 with Alex in her studio on Washington's San Juan Island, and band director Mary Bauer and the Mt. Mansfield Union High School Band far across the continent in Vermont. | |
Alex has written an extensive two-part article about electroacoustic band music and the uses of multimedia in the concert world. The essay, titled The e-Frontier: Music, Multimedia, Education, and Audiences in the Digital World echoes multimedia presentations she has given at The 2013 Midwest Clinic, the 2014 TMEA convention, and countless other seminars. It appears in the June and September 2014 issues of the magazine of the World Association for Symphonic Bands and Ensembles, WASBE World, and the .pdf is offered here with the very kind permission of the organization.

Click here for the full .pdf file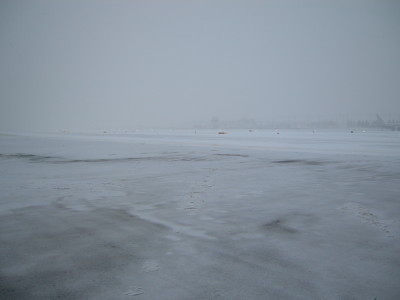 | | |
| --- | --- |
| | Alex loves writing for band! You can listen to any of her other pieces by clicking here |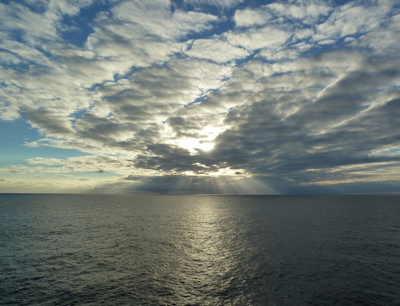 | | |
| --- | --- |
| The VERY best way to reach Alex is through email, by clicking here | |