| | |
| --- | --- |
| Here's the streaming .mp3 of a full recording of PASSAGES. | |
| | |
| --- | --- |
| Here's the high resolution download of a full recording of PASSAGES. | |
| | |
| --- | --- |
| Here's a streaming excerpt from the accompaniment track, for reference. | |
| | |
| --- | --- |
| Here's one example of what the instruments listed above sound like without the track, for reference. | |
THE PERUSAL PART SET
(email Alex for code access)
PERUSAL ONLY; not for performance or duplication.
.pdf file of the parts set,

8 1/2 x 11; 22 pages.



In a world in constant flux, PASSAGES offers a calming, centering, meditative, and encouraging outlook. It's a cellular work composed for any number of any instruments, with each phrase sounding beautiful whether stacked or exposed, and played with any of the chords in the track. It's never quite the same piece twice, because musicians make random choices from a selection of melodies and rhythms of varying difficulty. The music is especially well suited for musicians recording themselves during distance learning sessions, and even for soloists wishing to improvise. When playing with a live ensemble, the conductor has the option of cueing the passages each musician performs. Additionally, the motivic structure provides an effective composition lesson for ensemble members.
| | |
| --- | --- |
| | |
Enjoy this video of Jordan Randall Smith conducting
members of the Susquehanna University Symphony Orchestra
in a performance of PASSAGES for a concert
on November 17, 2020

(video is cued to the introduction of the piece;
music begins at 28:44):
HEAR ALEX DESCRIBE PASSAGES!
The Association of Concert Bands (ACB) hosted
a September 2020 webinar on adaptable music and the
Creative Repertoire Initiative, moderated by conductor Gail Brechting.
Alex and two of her CRI co-founder colleagues conductor Robert Ambrose
and composer Frank Ticheli discuss individual adpatable pieces,
as well as topics of licensing and copyright.
Alex gives a thorough overview of PASSAGES starting at 15:03:
Watch an August 2020 NAfME webinar about the
Creative Repertoire Initiative and adaptable pieces
including PASSAGES, with Alex and fellow CRI co-founding composers
Frank Ticheli, Jennifer Jolley, and Brian Balmages, moderated by composer
Rob Deemer. Alex gives a thorough overview of PASSAGES starting at 19:23:
Skype, Zoom, etc. are wonderful tools for affordably bringing Alex into your rehearsal, without having to book a plane flight! She has a great time coaching students, and the difference between their musicianship at the beginning of the rehearsal and by the time it ends, is remarkable.
Alex can tell the band about how the piece was created and engage them in conversation, and even show them how her digital project studio works! It's also easy to arrange to have her say hello to the audience during a concert, via a custom video. Webhearsals connect musicians to the real person-- and the stories-- behind the notes on the music stands.
The best way to reach Alex Shapiro is through email,
by clicking here

You can also leave a voice message or a fax at:
(270) 916-0093.
To see some examples of webhearsals, and the view Alex loves to share from her desk, click here.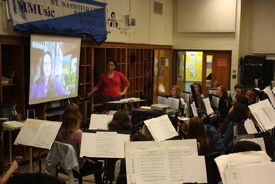 A December 2012 Skypehearsal with Alex in her studio on San Juan Island, and band director Mary Bauer and Mt. Mansfield Union High School in Vermont, rehearsing PAPER CUT.
Alex has written an extensive two-part article about electroacoustic band music and the uses of multimedia in the concert world. The essay, titled The e-Frontier: Music, Multimedia, Education, and Audiences in the Digital World echoes multimedia presentations she has given at The 2013 Midwest Clinic, the 2014 TMEA convention, and countless other seminars. It appears in the June and September 2014 issues of the magazine of the World Association for Symphonic Bands and Ensembles, WASBE World, and the .pdf is offered here with the very kind permission of the organization.

Click here for the full .pdf file
| | |
| --- | --- |
| | Alex loves writing for band! You can listen to any of her other pieces by clicking here |
| | |
| --- | --- |
| The VERY best way to reach Alex is through email, by clicking here | |
You can also leave a voice message or a fax at:
(270) 916-0093, and she'll return your call.