THE CONDUCTOR SCORE
(email Alex for code access)
PERUSAL ONLY; not for performance or duplication.
.pdf file of the TRANSPOSED CONDUCTOR SCORE,

9 x 12; 40 pages including cover and notes.
Homecoming is a distinctly American piece of music which ventures emotionally from doubt, to hope, and finally to celebration. Written for the soldiers of the U.S. Army TRADOC Band, the piece reflects upon wishes for the safe return of those who serve their country. Beginning with shades of concern and resolving with great joy, Homecoming seamlessly flows between traditional styles that originated in the U.S., from post-minimalist concert music to jazz. As the music grows into a waltz rhythm, welcoming smiles dance with it to the end as loved ones are reunited.

The individuals behind each instrument devote their lives to creating inspired music, and the people of the U.S. Armed Forces devote their lives to the betterment of the lives of others. In this piece, the most simple wind instrument of all, the human voice, echoes meaningful homecomings, wherever home may be and from whatever circumstance one returns.



| | |
| --- | --- |
| | |
| | |
| --- | --- |
| | Read Alex's feature article about her experience composing Homecoming, in the July 2008 issue of Sounding Board |
| | | |
| --- | --- | --- |
| | How did this mostly-chamber music composer get into writing for symphonic band? Listen to her describe how it happened, in this two-minute excerpt from an interview she gave to Carey Nadeau from the American Composers Forum: | |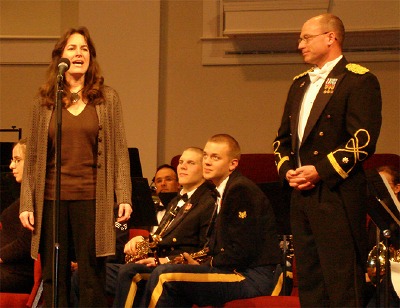 | | |
| --- | --- |
| Alex Shapiro addresses the audience at the premiere of Homecoming in Newport News, Virginia. | |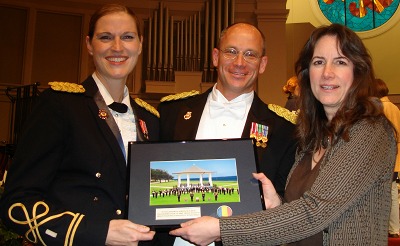 | | |
| --- | --- |
| Alex is presented a commemorative photo and dedication from the TRADOC Band and Lt. Toulouse and Major Addison. | |
"You have captured brilliantly the feelings one has upon separation. The "homecoming" section matches every photo of a family's embrace upon deployment return I have ever seen. I am also so happy that our generation, which began to openly say we loved pop idioms without shame, can now hear its techniques as high art and appreciated thereof!"
—Major Tod A. Addison, Commander and conductor, U.S. Army TRADOC Band, Fort Monroe, Virginia
Zoom, Skype, Google Meet, etc. are wonderful tools for affordably bringing Alex into your rehearsal, without having to book a plane flight! She has a great time coaching students, and the difference between their musicianship at the beginning of the session and by the time it ends, is remarkable.



Alex can tell the ensemble about how the piece was created and engage them in conversation, and even show them how her digital project studio works! It's also easy to arrange to have her say hello to the audience during a concert, via a custom video. Webhearsals connect musicians to the real person-- and the stories-- behind the notes on the music stands. Get in touch with Alex-- her contact info is at the bottom of this page.



To see some examples of webhearsals, and the view Alex loves to share from her desk, click here.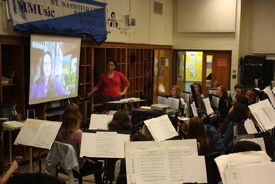 | | |
| --- | --- |
| Alex was an early adopter of online "webhearsals"! Here's one from December 2012 with Alex in her studio on Washington's San Juan Island, and band director Mary Bauer and the Mt. Mansfield Union High School Band far across the continent in Vermont. | |
| | |
| --- | --- |
| The VERY best way to reach Alex is through email, by clicking here | |
You can also leave a voice message or a fax at:
(270) 916-0093, and she'll return your call.
There's a lot more Shapiro band music to hear!

Head on over to THIS PAGE for an overview of Alex's wind band pieces. You can listen to each one, read all about it via a link, and if desired, request a free pdf perusal score. Have fun!